City of Logan
Powered by the Liquid Gears platform, the Logan City Council app, City of Logan, helps drive the council's goal to engage citizens; believing that the best outcomes come from working together.
The City of Logan app offers citizens a convenient way to stay engaged, informed, and connected with their local council.
The Problem
Being home to more than 327,000 people from over 217 different cultures, Logan is a fast-developing city, with new estates flourishing by the day. With such diversity, Logan City Council needed to find an innovative solution to engage its residents.
Requirements
Considering the growth and development of Logan, there is a strong need for a common point of contact between the community and the council. In particular, for citizens to have a convenient way to stay informed and easily report council related maintenance issues that arise in their neighbourhood via a mobile app.
The Solution
The City of Logan app provides a convenient solution that every resident can use to stay informed, engaged and connected with their council. The app is free to download and available on Android and iOS devices. This application aims to engage the broader community, fostering best practice through the deployment of engagement plans and the utilisation of outcomes to inform the council.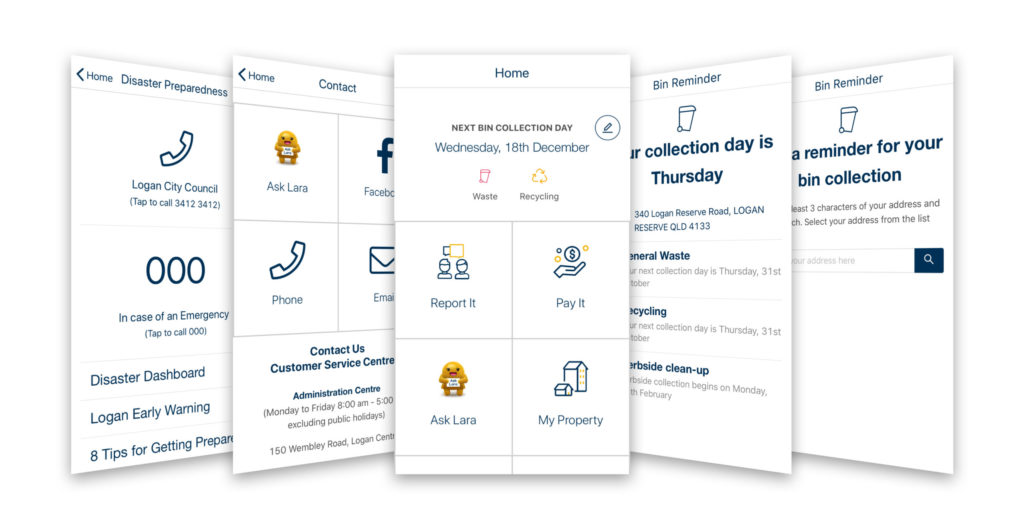 The City of Logan app has been redeveloped to further meet the needs of citizens and improve the overall user experience. The latest version of the app includes updates such as the removal of the registration process to allow users easy access to information. This new version includes key features such as:
Disaster Preparedness – providing useful information in preparation for, and during a disaster event.

Push notifications – for sending reminders such as bin collection etc.

"ASK LARA" – an AI powered chatbot to provide extended support to the Logan City community.

Report it – a tool for reporting non-urgent city maintenance issues. Citizens can now identify and report civic issues related to environment, health, and amenities etc., via the app for quick resolution.
The Result
Liquid State developed a cross-platform mobile app for Android and iOS devices, enabling citizens an easy to use platform for staying connected and resolving civic issues.
With the new City of Logan app, residents have up-to-date council information and services at their fingertips for faster assistance and convenience.
Logan City Council can track solution performance and ongoing user engagement, with analytics on:
Active users

Sessions (sessions per user too)

Documents viewed

Pages viewed
The Liquid State team is extremely happy to have this ongoing and evolving relationship with Logan City Council and are excited for the release of the new and improved City of Logan app.
---
The City of Logan app is an innovative smart community solution where the expectations of the modern citizen are met with quality and functionality. This citizen-centric app is validated by feedback from residents of Logan, with one resident commenting: 
 I love the app, as being new to Queensland and the Logan area I find it a very useful tool to let me know about the area etc. Our previous council in Sydney didn't have this type of communication tool so I find this fantastic. Well done Logan City Council